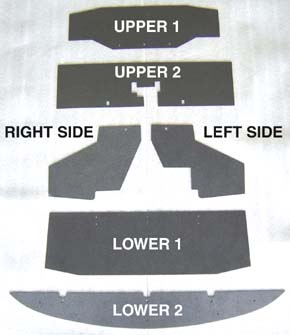 The kit comes complete with six ABS plastic panels. These are Upper Panels 1 and 2, Left & Right Side Panels and Lower Panels 1 and 2. These panels help seal off the air passage and improve the efficiency of the Intercooler and cooling system. The increase in the frontal area improves air flow compared to the factory shrouding. The sides are now closed off, with the new panels providing better airflow through the A/C evaporator and the radiator. If the panels require any additional trimming use Tin-Snips to cut the plastic.
The two lower panels will be installed in Step 12.
6.1 Modifying The Side Bracket - The side brackets need to be modified for the side panels as shown in Photos 6-A and 6-B.
The bracket is "L" -shaped with a small half that is about 1/4" high. Cut the bracket only on this edge so that the tab can be easily bent.

Using your hand, bend back the bracket about 90 degrees. This will allow the plastic side panel to lodge between it and the front bumper as shown in Photos 6-C and 6-D. Photo 6-E shows the improvement in the radiator opening using the new panels
6.2 Left And Right Side Panels - The left and right side panels install in the same manner.
Install the passanger side panel with the textured surface facing outwards by feeding it into the front area of the car from the engine bay. It may take a bit of wiggling and forcing to get this to fit but the flexibility of the plastic will help get the panel into place. Be sure that the front is wedged between the newly cut bracket and the front bumper. Note that the radiator and A/C evaporator coil have been removed for photo purposes only.

The hole in the upper section will line up with the original radiator bracket bolt hole. Use one of the OEM bolts from the radiator bracket you removed to secure the panel in place as shown in Photos 6-C and 6-D. Repeat for the other side.
Hold off installing the drivers side panel until you modify the power steering cooling tube in STEP 8. Then refer back to these instructions to complete the installation.